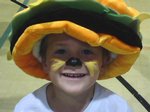 Cole Puryear (Aug 2002 - Dec 2009)
A miracle from day one, Cole defied all odds by surviving a normally fatal birth defect which no one knew existed in this boy. Cole's bright eyes, mischievous grin, and remarkable talents set him apart from others. His exuberance for life was contagious to all who knew him. Even in death, he was able to give life saving organs to others.
One of Cole's favorite times of the year was Christmas. In remembrance of Cole, 'Cole's Christmas for Children' was set up through Riceville Elementary School. To date, this fund has accumulated thousands of dollars in donations and provides games each Christmas to underprivileged children.
If you are interested in donating to this cause, please read the school newsletter during the months of December and May. During those months, we collect toys to give to children in need.